Safety is our utmost priority.
At John M. Mullins Rigging and Hauling Inc. safety is our utmost priority. We are the oldest operational crane and rigging outfit in the area and the best at what we do. Our track record speaks for itself. We are known throughout the area as a leader in the crane and rigging industry, but most importantly we are recognized for our safety. You can see that throughout our history we have stayed on the cutting edge of technology. We do this by constantly updating our crane fleet to supply you with the newest, most modern equipment to get your job done in a safe and timely manner.
It is not only our equipment that sets us apart from our competition, but the personnel responsible for running it. All of our operators are licensed professionals, the best in the business. They have spent thousands of hours learning from the professionals before them at Mullins, before obtaining operating certificates of their own. We work tirelessly to make sure you are satisfied with your project.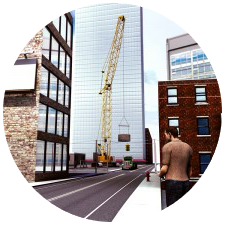 We Use Leading, Cutting-edge Software to Plan Our Lifts.
Planning is essential in completing a project in the most efficient and cost effective way. Our lift plans are prepared using a leading, cutting-edge software to show you all the angles of your job in a 3 dimensional environment. By using sample photos, we can show you what the crane will look like in the environment before it ever arrives on the job. Swing angles, tip heights, capacities, and ground bearing pressures are just a few of the things we can illustrate using our lift planning software.
Want more?
If you have a critical lift that you would like to see happen before it happens, we will supply you with a 3-dimensional video of your lift. We have the highest level of training in the 3D lift plan software. At John M. Mullins Rigging and Hauling Inc. you can rest assured that your job is planned right and completed right.
Training and Certifications
Our employees are trained and certified with the following:
OSHA 10 Hour • New York State Crane Operator Certificate of Competence • Fork Truck Certification • OSHA Certified Riggers • Level 3 Certified 3-D Lift Plan • OSHA Certified Signalmen • OSHA approved safety program • Fall protection/Fall management.